Provided by 'FRZ Sono-Tech Ltd.'
Transvaginal Female Pelvic Scans in London.
Personalised service by a NHS Senior Clinical Ultrasonographer
Scanning Privately on Sundays/ Evenings!
We are located
Opposite Wimbledon Station*
* = Tube (District Line); Train (From London Waterloo via Clapham Junction [15 minutes]); Tram (Croydon Tramlink).
Please click here to –
for a High Quality, cost effective Gynaecology Ultrasound.
A full Consultation with your Ultrasonographer is included in the below price.
PLEASE NOTE – We will give you a report of your findings, but the images will only be sent to your NHS GP or Medical Clinic
(with your consent).
| Diagnostic Test | Price |
| --- | --- |
| Female Pelvis – transvaginal Ultrasound | £85 |
This Women only ultrasound is normally done internally (transvaginal) to more accurately evaluate your ovaries and uterus. If you wish, it may be done transabdominally, but we cannot guarantee the quality of the images.
This may be done to assess your fertility or to look for polycystic ovaries. It may be used to look for causes of lower abdominal pain such as ovarian cysts, fibroids, endometriosis and pelvic inflammatory disease. It may be performed to look for causes of irregular bleeding, including endometrial polyps and endometrial carcinoma (especially if you have vaginal bleeding at least 1 year after your menopause).
Your Senior Ultrasonographer – Ms Fatin Mohsin
---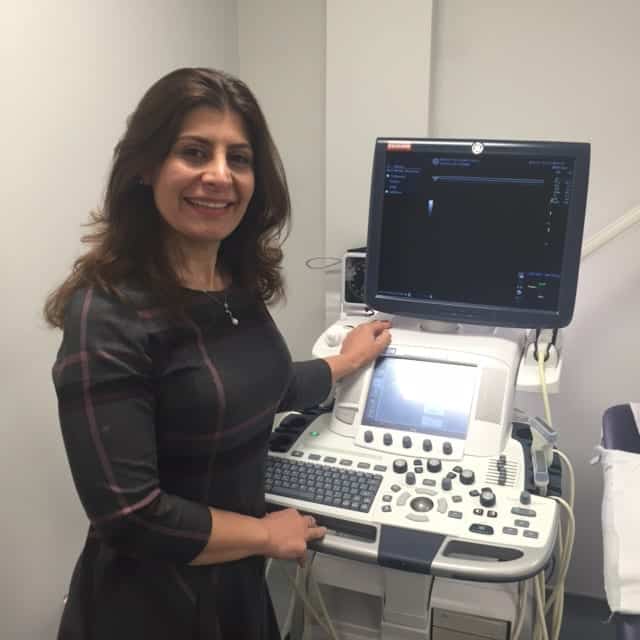 Having graduated in 1998 from Damascus university, I earned a degree in medical sciences. I subsequently pursed my career in the United Kingdom and in 2004 was awarded my MSc. in Medical Ultrasound and the Diploma of Medical Ultrasound from Imperial College University London.
In 2008, when I was pregnant with my younger son, I decided to expand my knowledge in medical ultrasound by enrolling in a PgC course and obtained my qualification with a merit from King's College, London.
I am a member of the British Medical Ultrasound Society, hold a basic accreditation from the Society of Vascular Technology of Great Britain and Ireland and NT accreditation from the Fetal Medicine Foundation.
I have over 11 years experience in both NHS and private hospitals and have been appointed as a Senior clinical ultrasound specialist at Kingston hospital NHS Trust in 2012 (Band 8 Sonographer).
As well as enjoying every aspect of my professional life, I also enjoy my volunteer work for a charity that supports orphans in my home country of Iraq.
---
Availability:
---
Sunday Morning, Monday evening, Friday evenings.
Specialist Area:
---
Pregnancy, Female pelvis and Vascular