Provided by 'FRZ Sono-Tech Ltd.'
Personalised service by a NHS Senior Clinical Ultrasonographer Scanning Privately on Sundays/ Evenings!
A full Consultation with your Ultrasonographer is included in the below price.
We will give you a report of your findings, but the images will only be sent to your NHS GP or Medical Clinic (with your consent).
| Diagnostic Test | Price |
| --- | --- |
| Carotid artery Ultrasound | £125 |
| Abdominal Aorta Ultrasound | £95 |
Please arrive at least 10 minutes before your appointment time – this allows adequate time to get registered with us.
The carotid arteries are found in your neck and supply oxygen rich blood to your brain, face and scalp. The purpose of the test is to look for plaque build up in your arteries which may block the blood flow to your brain and potentially cause a stroke. It will inform your doctor as to whether you may need surgical intervention to your arteries to prevent a stroke from recurring.
The Aorta is the main artery that travels through the abdomen from your heart. This scan is done to look for aortic dilatation and the detection of an abdominal aortic aneurysm (AAA). The scan can also assess for narrowing of your Aorta by calcification, plaque or thrombus build up.
Your Senior Ultrasonographer – Ms Fatin Mohsin
---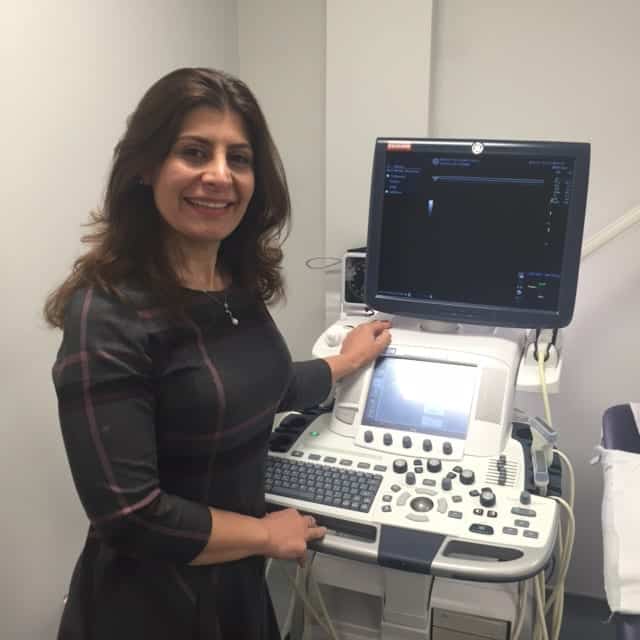 Having graduated in 1998 from Damascus university, I earned a degree in medical sciences. I subsequently pursed my career in the United Kingdom and in 2004 was awarded my MSc. in Medical Ultrasound and the Diploma of Medical Ultrasound from Imperial College University London.
In 2008, when I was pregnant with my younger son, I decided to expand my knowledge in medical ultrasound by enrolling in a PgC course and obtained my qualification with a merit from King's College, London.
I am a member of the British Medical Ultrasound Society, hold a basic accreditation from the Society of Vascular Technology of Great Britain and Ireland and NT accreditation from the Fetal Medicine Foundation.
I have over 11 years experience in both NHS and private hospitals and have been appointed as a Senior clinical ultrasound specialist at Kingston hospital NHS Trust in 2012 (Band 8 Sonographer).
As well as enjoying every aspect of my professional life, I also enjoy my volunteer work for a charity that supports orphans in my home country of Iraq.
---
Availability:
---
Sunday & Monday.
Specialist Area:
---
Pregnancy, Female pelvis and Vascular