Provided by 'FRZ Sono-Tech Ltd.'
Trans-abdominal Abdomen +/- Pelvic Scans.
Personalised service by a NHS Consultant Radiologist Scanning Privately on Thursday Evenings!
DO NOT EAT for 8 hours before the procedure.
PLEASE DRINK lots of clear fluids (1 litre or 2 pints) before your appointment. Avoid milk and fizzy drinks. You may have water or black coffee. Please do not empty your bladder before the procedure.
A full Consultation with your Radiologist is included in the below price.
We will give you a report of your findings, but the images will only be sent to your NHS GP or Medical Clinic (with your consent).
Diagnostic Test
Price
Abdomen Ultrasound (trans-abdominal)
Consultant Radiologist (Doctor)
£110
Abdomen Ultrasound (trans-abdominal)
Senior Ultrasonographer
£95
Abdomen Ultrasound (trans-abdominal) & Female pelvis ultrasound (trans-vaginal)
Senior Ultrasonographer
(female)
£150
Abdominal and pelvis ultrasound views can be limited if you are overweight or if you have extensive bowel gas present.
This is used to assess for a cause of abdominal pain. It analyses your liver, gallbladder, biliary tree, pancreas, spleen and kidneys and bladder. It can also assess your central large blood vessels. In men it may also be able to assess your prostate gland and in women, it may be able to assess your uterus and ovaries (as long as they are not obscured by overlying bowel gas or adipose tissue- hence, to adequately assess your pelvic organs, we would recommend a transvaginal ultrasound scan.
Diagnostic Test
Price
Kidneys, Ureters and Bladder Ultrasound
Consultant Radiologist (Doctor)
£110
Kidneys, Ureters and Bladder Ultrasound
Senior Ultrasonographer
(female)
£95
This can assess the size, shape and position of your kidneys, ureters and bladder. It looks for Kidney masses, stones obstructing the urinary tract and renal cysts. Your bladder is assessed when it is full and immediately after emptying (to ensure adequate bladder emptying).
Your Consultant Radiologist – Dr. Dhafer A. Deeab
(BUPA recognised Consultant)
---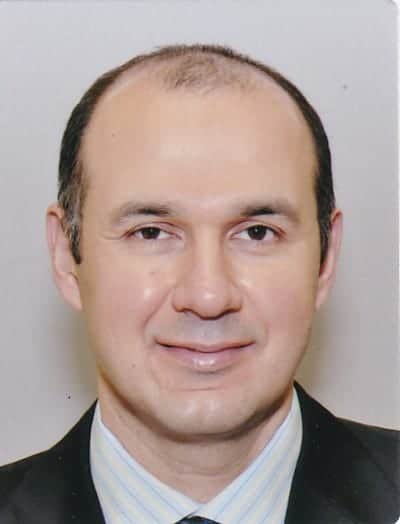 Having graduated in 1999 from Babil University, Iraq, I earned my MBCHB degree. I was then awarded a fellowship to study radiology as part of the Iraqi Board training program. I performed my foundation training in Babylon University Teaching Hospital between 1999 and 2001. I subsequently started my radiology training in 2001.
In 2005, I left Iraq to come to the United Kingdom. I passed my language and medical exams in 2006 and received my GMC registration. I started my honorary registrar job in St Mary's Hospital in London and joined the radiology training program in 2008. I was granted a fellowship in MRI in 2009.
I began my Locum Consultant position in the Royal Free Hospital in June 2010, which was followed by a permanent position as a Consultant Musculoskeletal Radiologist in Epsom and St. Helier University Hospitals.
I am a member of the British and European Societies of Skeletal Radiology.
I have over 5 years' experience in both NHS and private hospitals. I have performed more than 10,000 image guided musculoskeletal injections in the NHS and private sectors.
Currently, I am leading the MRI unit in St Helier Hospital. I present the radiology aspect in the Rheumatology and Trauma and Orthopaedic meetings. I supervise and teach Junior Specialist Registrars and Radiographers during their reporting sessions.
I am involved in the teaching and research process. I have published a few papers and case reports. Currently I am a sub-investigator in 3 randomised clinical trials with the South West Elective Orthopaedic centre.
---
Availability:
---
Thursday Evening
Specialist Area:
---
Musculoskeletal and Joint Injections and Abdominal
Qualifications and Current Employment:
---
MB CHB, FRCR (Eng)
Diploma of the European Society of Musculoskeletal Radiology (ESSR)
Consultant Radiologist
Epsom and St. Helier University Hospitals
Your Senior Ultrasonographer – Ms. Georgia De'Lisle-Tarr
---
After obtaining my second undergraduate degree in America I returned home to Australia to pursue a post-graduate degree in Diagnostic Medical Sonography from the University of South Australia in my home city of Adelaide.
I worked in a large private radiology clinic for four years in Australia before endeavouring on a new journey and moving to the UK.
While in the UK I have worked for private and NHS hospitals performing a wide variety of diagnostic ultrasound scans including obstetrics, general, gynaecology and IVF scanning.
I am a member of the Australasian Sonographers Association (ASA) and accredited with Australasian Society for Ultrasound Medicine (ASUM).
With strong family connections to the UK, moving back here and pursing my ultrasound career has been a very rewarding experience. The best part of my job as a diagnostic medical sonographer is the patient interaction and the care I can provide. I look forward to this new and challenging role at The GP surgery
---
Availability:
---
Sunday
Specialist Area:
---
Early pregnancy, female pelvis, male pelvis, renal, abdomen, thyroid, MSK, DVT, Female Breast.