Provided by 'FRZ Sono-Tech Ltd.'
Fertility follicle tracking or Antral follicle count pre-IVF in London.
Personalised service by a NHS Senior Clinical Ultrasonographer Scanning Privately on Sundays/ Evenings!
A full Consultation with your Ultrasonographer is included in the below price.
We will give you a report of your findings, but the images will only be sent to your NHS GP or Medical Clinic (with your consent).
Diagnostic Test
Price
Follicle tracking or Antral follicle count and
Full female pelvis ultrasound – transvaginal Ultrasound
£120
Please arrive at least 10 minutes before your appointment time – this allows adequate time to get registered with us.
This Women only ultrasound is normally done internally (transvaginal) to more accurately evaluate your ovaries and uterus.
Follicle tracking scans are a series of ultrasound examinations to assess the size of any active follicles. The follicle scan is done on a specific day of your cycle [you will have to ask your gynaecology consultant on what day of your cycle this will need to be done]. When the follicle reaches 16 mm, we advise the patient to use an LH surge kit. Further scans will need to be arranged till the follicle reaches 18mm and the LH surge kit will show two lines (indicating the occurrence of a LH surge to stimulate ovulation). Your ultrasonographer will need to evaluate your endometrium as well during this time.
Follow up scans for the same cycle (after the initial scan) will be at the reduced rate of £85.
The Antral follicular scan is performed to assess more mature follicles in your ovary. Counting them can be used to assess your ovarian reserve and is possibly the best single indicator of your ovarian reserve. The Antral Follicle scan can be done any time from day 3 to 5 of your cycle (day 1 is the first day of the period). Your ultrasonographer will measure and count your antral follicles (size of 2-9 mm/diameter). Counting these follicles is a good predictor of the number of mature follicles that will be stimulated in your ovary when your Consultant gives you injectable FSH (part of your IVF treatment) and subsequently this will correlate with your IVF success rate. Hence, if your scan shows a low volume ovary with under 4 follicles this means you may have a poor response to stimulation and the IVF procedure will be cancelled. If your scan shows more than 35 antral follicles this could suggest polycystic ovarian syndrome and low doses of FSH will be needed for your stimulation as you will be at high risk of ovarian hyper-stimulation syndrome.
On top of the above, your ultrasonographer will also assess the rest of your ovaries, your uterus and lining of your uterus and fallopian tubes.
Your Senior Ultrasonographer – Ms Fatin Mohsin
---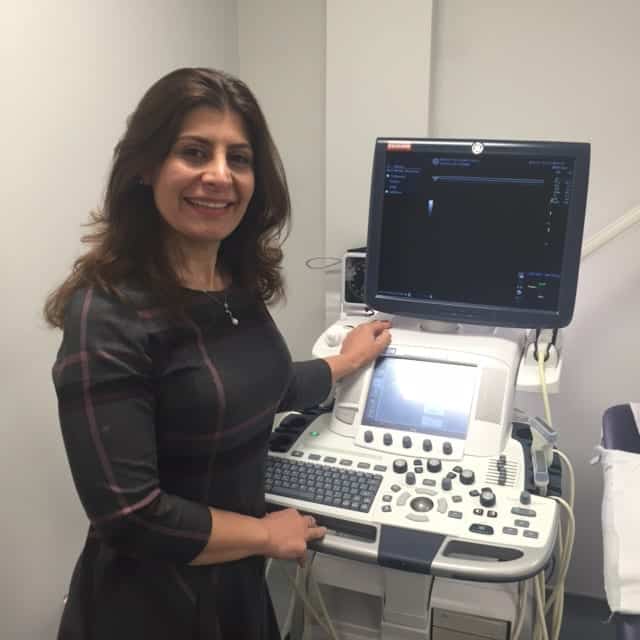 Having graduated in 1998 from Damascus university, I earned a degree in medical sciences. I subsequently pursed my career in the United Kingdom and in 2004 was awarded my MSc. in Medical Ultrasound and the Diploma of Medical Ultrasound from Imperial College University London.
In 2008, when I was pregnant with my younger son, I decided to expand my knowledge in medical ultrasound by enrolling in a PgC course and obtained my qualification with a merit from King's College, London.
I am a member of the British Medical Ultrasound Society, hold a basic accreditation from the Society of Vascular Technology of Great Britain and Ireland and NT accreditation from the Fetal Medicine Foundation.
I have over 11 years experience in both NHS and private hospitals and have been appointed as a Senior clinical ultrasound specialist at Kingston hospital NHS Trust in 2012 (Band 8 Sonographer).
As well as enjoying every aspect of my professional life, I also enjoy my volunteer work for a charity that supports orphans in my home country of Iraq.
---
Availability:
---
Sunday & Monday.
Specialist Area:
---
Pregnancy, Female pelvis and Vascular
Your Senior Ultrasonographer – Ms Marzieh Abbasi
---
I have been practicing ultrasound since 2010 in England. I am accomplished in a range of skills in the field of ultrasound including Obstetrics, Gynaecology, Abdominal, Deep Vein Thrombosis, Paediatrics and Musculoskeletal ultrasound. I participate in continuing professional development to ensure high quality patient care.
Availability:
---
Thursday PM, Sunday AM (Wimbledon); Tuesday AM, Thursday AM, Saturday AM (Fulham).
Achievements:
---
MSc Medical Ultrasound Obs/Gyn (Distinction, 2010-2011) Imperial College. PG General/Abdominal Ultrasound/Small parts (2016-2017)City University. PG MSK Ultrasound (2018-2019) East London University. Diploma MSK guided-injection ultrasound (Pending) East London University. PhD (2009-2012) Middlesex University, Department of Midwifery & Psychology. Funding was awarded by the School of Health & Social Sciences, Middlesex University, London, UK. MSc Midwifery (2005-2007) Middlesex University, London, UK. BSc Midwifery (First class; 2000-2003) Tehran Medical University, London, UK.
Employment History:
---
Sonographer (Chelsea & Westminster Hospital) Full time (December 2019-Current). Sonographer (Whittington Hospital) Full time (September 2018 to November 2019). Sonographer (Epsom General Hospital) Full time(November 2016-August2018). Sonographer (Queen Charlotte's & Chelsea Hospital) Full time (April 2012 – October 2016). Sonographer (Epsom General Hospital) Temporary to do maternity leaves cover (October 2011-Mach 2012). Midwifery (2003-2005; Iran, Tehran): Childbirth & Maternity counselling.
Professional membership:
---
Fetal Medicine Foundation (FMF). Society of Radiographers (SOR). International Society of Ultrasound in Obstetrics and Gynaecology (ISUOG).
Specialist Area:
---
Pregnancy & Female pelvis + Abdomen + Thyroid + DVT + MSK
Your Senior Ultrasonographer – Ms Nisha Nayak
---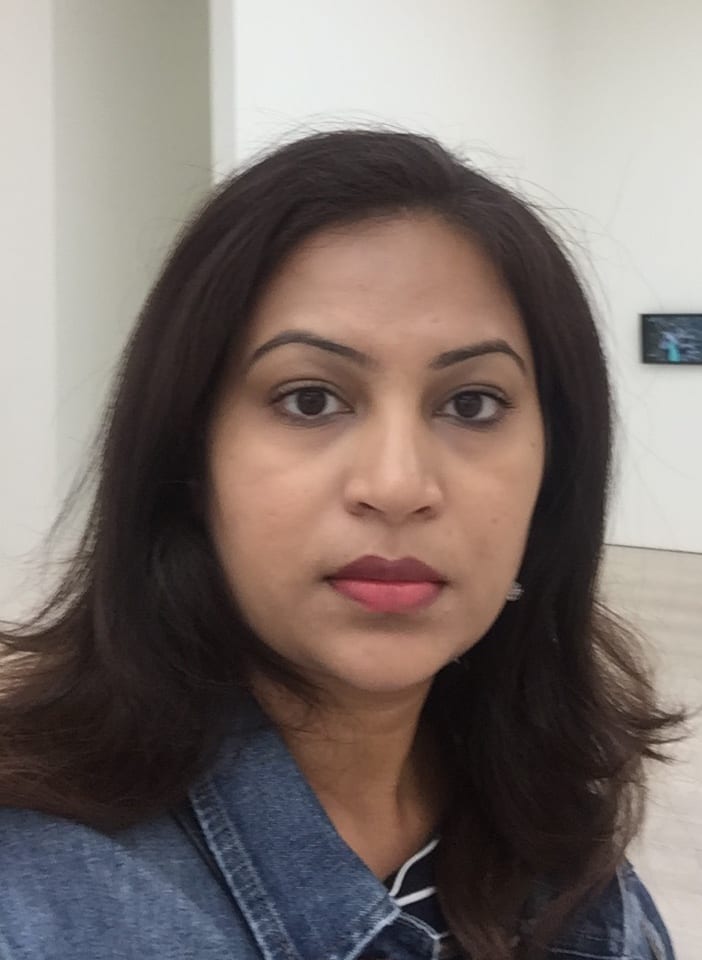 I finished my Bachelor of Science Degree in Diagnostic Medical Ultrasound in 2003 from the Rochester Institute of Technology, New York. I worked in the US for a few years before moving to London and have worked at two busy NHS departments and private clinics since then.
My main areas of interests have been Obstetrics and Gynaecology, but I wanted to specialise in Reproductive medicine ultrasound. I followed my passion and in 2008, I completed a MSc in Prenatal Genetics and Fetal Medicine from University College of London.
After this I worked in a busy IVF unit, which was both challenging and rewarding. I enjoyed being part of some of their research projects and also as a fertility ultrasound trainer.
I really enjoy working as a Sonographer, helping women through their journey of motherhood, and some through their difficult journey of fertility. I hope to get involved in more research work and be an active contributor to the field of obstetrics, gynaecology and reproductive medicine.
---
Availability:
---
Friday.
Specialist Area:
---
Pregnancy and Female pelvis