Provided by 'FRZ Sono-Tech Ltd.'
Trans-abdominal Abdomen +/- Transvaginal Pelvis Scans.
Personalised service by a NHS Senior Ultrasonographer Scanning Privately on Weekdays and Weekends!
DO NOT EAT for 8 hours before the procedure.
PLEASE DRINK lots of clear fluids (1 litre or 2 pints) before your appointment. Avoid milk and fizzy drinks. You may have water or black coffee. Please do not empty your bladder before the procedure.
A full Consultation with your Ultrasonographer is included in the below price.
We will give you a report of your findings, but the images will only be sent to your NHS GP or Medical Clinic (with your consent).
| Diagnostic Test | Price |
| --- | --- |
| Abdomen Ultrasound (trans-abdominal) | £85 |
| Diagnostic Test | Price |
| --- | --- |
| Abdomen Ultrasound (trans-abdominal) & Female Pelvis Ultrasound (transvaginal) | £140 |
This is used to assess for a cause of abdominal pain. It analyses your liver, gallbladder, biliary tree, pancreas, spleen and kidneys and bladder. It can also assess your central large blood vessels. In women, it may be able to assess your uterus and ovaries (as long as they are not obscured by overlying bowel gas or adipose tissue- hence, to adequately assess your pelvic organs, we would recommend a transvaginal ultrasound scan.
This can assess the size, shape and position of your kidneys, ureters and bladder. It looks for Kidney masses, stones obstructing the urinary tract and renal cysts. Your bladder is assessed when it is full and immediately after emptying (to ensure adequate bladder emptying).
The pelvis ultrasound is a woman only ultrasound. It is normally done internally (transvaginally) to more accurately evaluate your ovaries and uterus. If you wish, it may be done transabdominally, but we cannot guarantee the quality of the images.
This may be done to assess your fertility or to look for polycystic ovaries. It may be used to look for causes of lower abdominal pain such as ovarian cysts, fibroids, endometriosis and pelvic inflammatory disease. It may be performed to look for causes of irregular bleeding, including endometrial polyps and endometrial carcinoma (especially if you have vaginal bleeding at least 1 year after your menopause).
Your Senior Ultrasonographer – Ms. Marziah Khodaei
---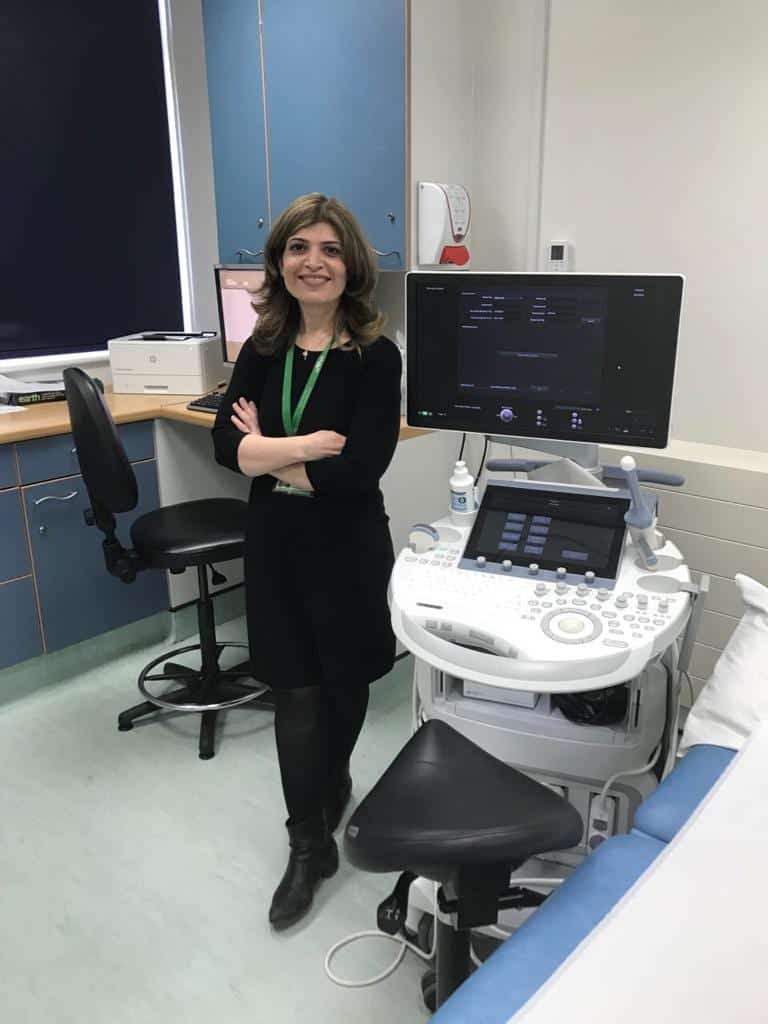 Having always wanted to pursue my calling, I graduated in 2003 from Tehran University in midwifery. Having more than 8 years experiences in the field of midwifery, I enjoyed every aspect of it. I have completed my first postgraduate degree in 2011 in Reproductive science and women's health from University College of London (UCL). It was an amazing opportunity for me to gain experience in a very high standard IVF unit.
In 2014 I attained my PgD in the Obstetrics and Gynaecology Ultrasound from Cardiff University.
I work in both the NHS and the private sectors and have a strong passion to my work and patient care.
My accomplishments include being appointed as a senior clinical ultrasound specialist at Kingston hospital NHS Trust (Band 8 Sonographer).
I am a member of the Society of Radiographers and hold NT accreditation from the Fetal Medicine Foundation.
---
Availability:
---
Wednesday & Sunday.
Specialist Area:
---
Pregnancy & Female pelvis, Abdomen & Thyroid