Provided by 'FRZ Sono-Tech Ltd.'
Fertility follicle tracking or Antral follicle count pre-IVF in London.
Personalised service by a NHS Senior Clinical Ultrasonographer
Scanning Privately on Sundays/ Evenings!
We are located
Opposite Wimbledon Station*
* = Tube (District Line); Train (From London Waterloo via Clapham Junction [15 minutes]); Tram (Croydon Tramlink).
Please click here to –
for a High Quality, cost effective Gynaecology Ultrasound.
A full Consultation with your Ultrasonographer is included in the below price.
PLEASE NOTE – We will give you a report of your findings, but the images will only be sent to your NHS GP or Medical Clinic
(with your consent).
Diagnostic Test
Price
Follicle tracking or Antral follicle count and
Full female pelvis ultrasound – transvaginal Ultrasound
£120
This Women only ultrasound is normally done internally (transvaginal) to more accurately evaluate your ovaries and uterus.
Follicle tracking scans are a series of ultrasound examinations to assess the size of any active follicles. The follicle scan is done on a specific day of your cycle [you will have to ask your gynaecology consultant on what day of your cycle this will need to be done]. When the follicle reaches 16 mm, we advise the patient to use an LH surge kit. Further scans will need to be arranged till the follicle reaches 18mm and the LH surge kit will show two lines (indicating the occurrence of a LH surge to stimulate ovulation). Your ultrasonographer will need to evaluate your endometrium as well during this time.
Follow up scans for the same cycle (after the initial scan) will be at the reduced rate of £85.
The Antral follicular scan is performed to assess more mature follicles in your ovary. Counting them can be used to assess your ovarian reserve and is possibly the best single indicator of your ovarian reserve. The Antral Follicle scan can be done any time from day 3 to 5 of your cycle (day 1 is the first day of the period). Your ultrasonographer will measure and count your antral follicles (size of 2-9 mm/diameter). Counting these follicles is a good predictor of the number of mature follicles that will be stimulated in your ovary when your Consultant gives you injectable FSH (part of your IVF treatment) and subsequently this will correlate with your IVF success rate. Hence, if your scan shows a low volume ovary with under 4 follicles this means you may have a poor response to stimulation and the IVF procedure will be cancelled. If your scan shows more than 35 antral follicles this could suggest polycystic ovarian syndrome and low doses of FSH will be needed for your stimulation as you will be at high risk of ovarian hyper-stimulation syndrome.
On top of the above, your ultrasonographer will also assess the rest of your ovaries, your uterus and lining of your uterus and fallopian tubes.
Your Senior Ultrasonographer – Ms Fatin Mohsin
---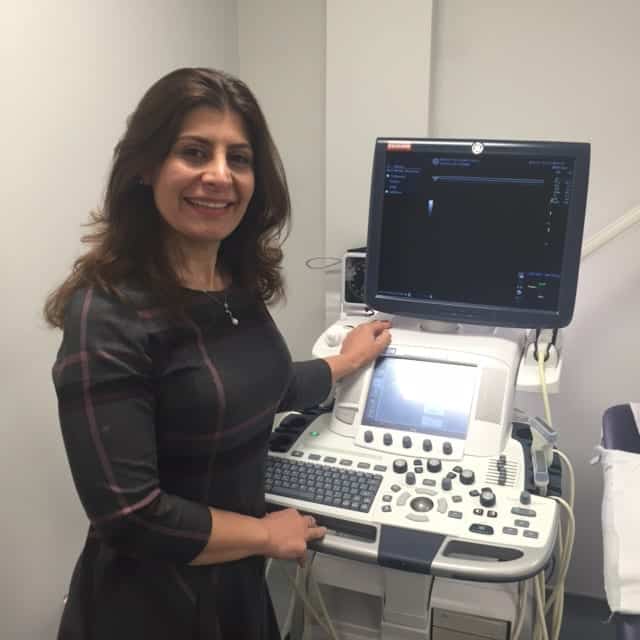 Having graduated in 1998 from Damascus university, I earned a degree in medical sciences. I subsequently pursed my career in the United Kingdom and in 2004 was awarded my MSc. in Medical Ultrasound and the Diploma of Medical Ultrasound from Imperial College University London.
In 2008, when I was pregnant with my younger son, I decided to expand my knowledge in medical ultrasound by enrolling in a PgC course and obtained my qualification with a merit from King's College, London.
I am a member of the British Medical Ultrasound Society, hold a basic accreditation from the Society of Vascular Technology of Great Britain and Ireland and NT accreditation from the Fetal Medicine Foundation.
I have over 11 years experience in both NHS and private hospitals and have been appointed as a Senior clinical ultrasound specialist at Kingston hospital NHS Trust in 2012 (Band 8 Sonographer).
As well as enjoying every aspect of my professional life, I also enjoy my volunteer work for a charity that supports orphans in my home country of Iraq.
---
Availability:
---
Sunday Morning, Monday evening, Friday evenings.
Specialist Area:
---
Pregnancy, Female pelvis and Vascular